Jambo (Swahili), Supa (Maasai), Hello!
2016 flew by and we are already one month into 2017. The eighteen beautiful children of Namayiana Children's Home continue to grow, learn, play, and laugh. We could end this missive right here, because it is only and always about the Kidz, but because of you, a lot has happened that we want to share with you.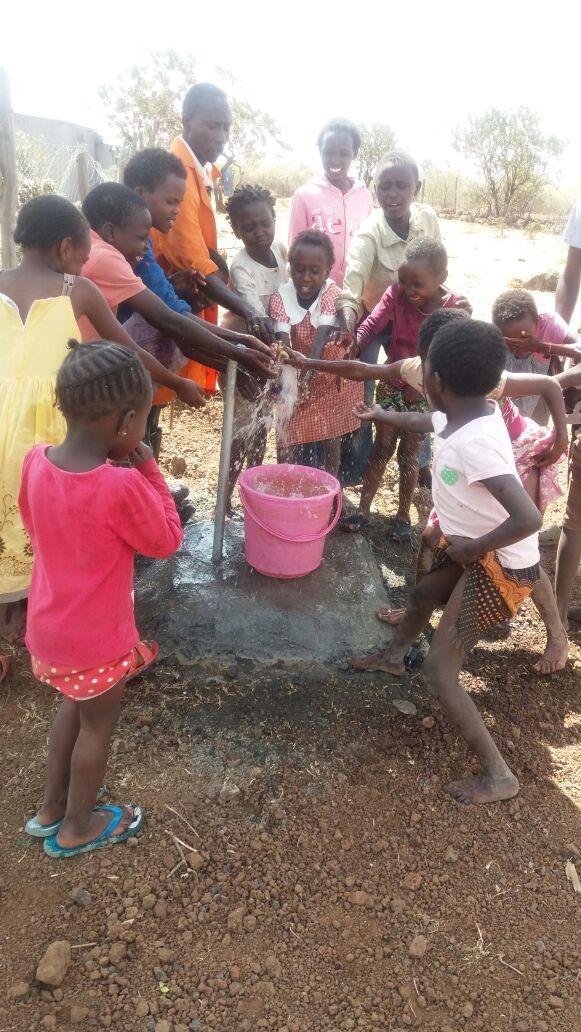 In spite of quite a few challenges, our well (borehole, as it is called in Kenya) was drilled, thanks to the joint efforts of the supporters of Kenya's Kidz (that's you!), the supporters of Ronesa Academy (where our kids go to school), and a grant from the Thirst Project. The project included a 20 foot tall tower and a 20,000 liter storage tank, along with a solar panel array. The pump was lowered to 130 meters, the switch was thrown and…. WATER! Now there's water for the Kidz, school, staff, livestock, and greenhouse! Yes, the greenhouse was finally constructed and the Kidz are enjoying the daily benefit of fresh vegetables. We hope to start selling the surplus of produce soon, as well as water to the community.
Two teams traveled to Kenya this past summer, spanning six weeks. They hit the ground running making numerous improvements to the Home, including hand mixing and pouring 10 yards of concrete to improve the kitchen, laundry, and other areas, constructing the greenhouse, building book cases, and repairing the tables and chairs. We had our annual birthday party for the kids and visited the elderly in the community with gifts of food and shoes. Several children received dental checkups, and we took many of the children to visit their extended families. At some point during the six weeks, every child was taken to town to enjoy a "kuku and chips" (chicken and fries) lunch, much like KFC, and Dairy Queen style ice cream. For most, it was the first time trying ice cream, and we enjoyed watching their faces of surprise as they tasted the cold treat. The teams worked hard, but we also laughed and played with the kids. Pure heaven!
It's difficult for words and a few pictures to describe what your support has been able to accomplish and how you've affected the lives of the children. But we are so grateful to all of you. Asante Sana! (Thank you very much!)
Child Sponsorship
Most of our children have sponsors – many of you. We cannot begin to tell you how that impacts the lives of our children, who have become your children. Not only does your support ensure that your child's basic needs are met, but it, more importantly, sends a message that he is special and that someone cares and believes in him – someone who has made a commitment in his future. Some sponsors have chosen to correspond with their child, and it is truly sweet to watch the children read their letters and pore over the pictures.
We are in the process of accepting new children who need sponsors. Are you looking for an opportunity to make a difference in a child's life? $35 a month covers a child's
school tuition, nutritious food, and healthcare. Not only does your child receive these basic needs, but she also knows that someone cares enough to invest in her future. Please know that 100% of your support goes directly to care for your child.
For more information contact us at Gloria@KenyasKidz.org.
Is Kenya calling you?
Many of you have supported us through the years as we have gone to work (and play) with the orphaned children of Kenya. A few of you have even joined us and stated that your life has been forever changed. And some of you have told us that you'd like to go with us sometime or go again. Maybe this is the year for you to experience making a difference in the world, one child at a time.
A typical itinerary includes living in a Maasai community, southwest of Nairobi, while working at Namayiana Children's Home and Ronesa Academy, visiting the elderly women with gifts of food and friendship, and celebrating the children's birthdays on one special day.  We also visit our long-time friend Mary Mambo in the Nairobi slums, where she provides a K-8 school for about 200 street children, a girls' rescue center for about 40 girls, and a clinic for TB, HIV, and maternity care. And an amazing safari can be arranged for those interested.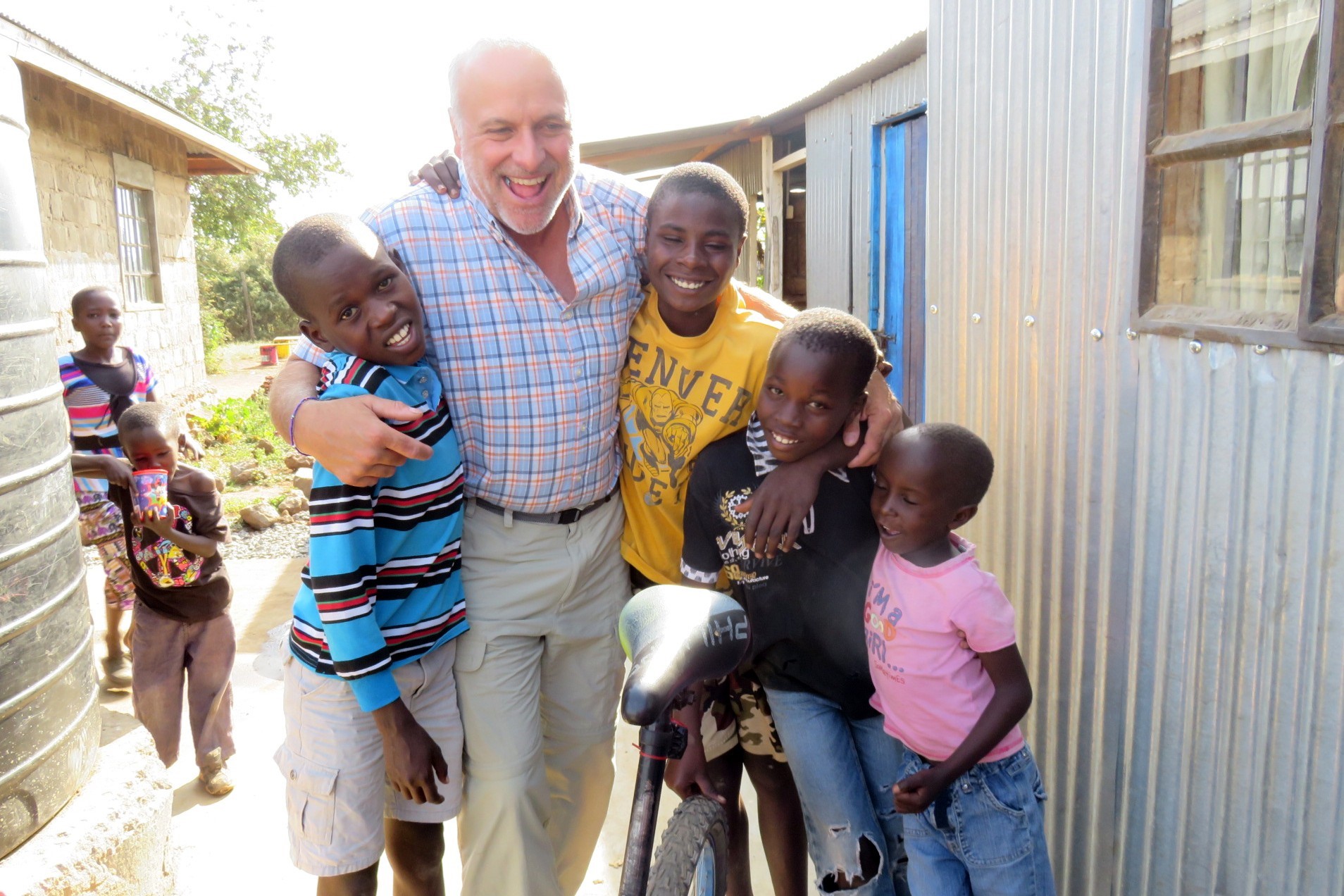 Teams are forming for departure around the middle of June into July. There will be an information meeting for anyone interested in joining a team on Saturday, February 25th at 1:00 pm at the Scharton's. Please let us know if you plan to attend the meeting at Gloria@KenyasKidz.org or call or text us as 303.263.6398, so we can prepare accordingly for handouts and refreshments.
Looking Ahead
As we look ahead at our goals for the year, we consider ways to ensure that Namayiana becomes self-sufficient as well as to determine how to enrich the lives of the children. To that end, we hope to accomplish the following:
Sell water to the community: This endeavor would be a win/win for Namayiana as well as the community. Villagers would pay a nominal amount for clean water without having to walk the distance to the reservoir. To accomplish this, we need to pipe water to the road and construct a kiosk from which to sell water.
Acquire playground equipment: The children have loved when we go to town for their birthday parties and they get to play on playgrounds. To have playground equipment on site would be such a blessing for them.
If you'd like to contribute to one of these projects, go to KenyasKidz.org to make an on-line donation or send your check to the address on the left. Of course, we always appreciate general donations to help with the day-to-day expenses. Please know that 100% of your donation directly benefits Namayiana Children's Home.
Amazon Smile
Do you shop online at Amazon.com? Amazon will donate 0.5% of your purchases to Kenya's Kidz. Simply go to the following link so we get credit. https://smile.amazon.com/ch/27-5574450.
For more information, visit www.smile..com/about.